Behind the Scenes of the 2015 Super Bowl Halftime Show
A good majority of everyone that watches the Super Bowl, views it via a TV. There are some who can afford to hand over the money for tickets to attend the Super Bowl in person, and those people are treated to quite a show. Not only does the live stadium audience get to witness the biggest football game of the year, but they also get to watch an awesome halftime show.
While the live audience got to sit and enjoy the show unfold right before their eyes, the rest of the world had to watch the halftime show on their TVs. This means that many people are forced to view the show through what is broadcasted for the 12 minutes during the show. The TV audience does not get to see the elaborate setup and teardown process on the field that happens during commercials – which is something "techies" like myself enjoy almost more than the show itself.
Lucky for you, we tracked down a video time-lapse (used with permission from Natalie Sigmon) taken during the 20 minutes or so from the time the 2nd quarter ended, to the wrap-up of the halftime show. We then added the live TV shots in the bottom left corner so you can match up what is happening. Be sure to watch in HD, and feel free to slow down or replay the video. It took me 5+ views to soak it all in.
If you thought that was impressive, we tracked down a list of people & gear used in that show:
750 Cast members
480 Field Team Members
400 Staff & Crew
24 Cameras
5 Chapman Sideline Carts
2 Jibs
2 Steadicam (one underslug)
1 Helicopter w/ Cineflex
90 – 26k Projectors
384 – LED Tiles
582 Feet of Blades
765 Lighting Instruments
8 – D3 Servers
10 Flame Cannons & A Lot of Pyro
25,000 amps of Power
1/2 Mile of Truss
18 Audio Field Carts w/ 108 Speakers
24 Stage Carts
1 – 24′ Long x 12′ High Lion Puppet
1 – 18,000 Square Foot Projection Surface
48 Golf Carts
1 Flying by Foy Rig
More than 850 Costumes
24,000 Sq Feet of Tenting
145,000 Flashlights (for audience to hold)
1,000 FM Radios (for communication to cast members)
600 LED Orbs
11 – 12′ Long x 6′ Cloud Balloons
3,650 Hotel Room Nights
1,366 Pizzas
7,620 Boxed Lunches
Here are some camera diagrams & renderings from the pre-production phase: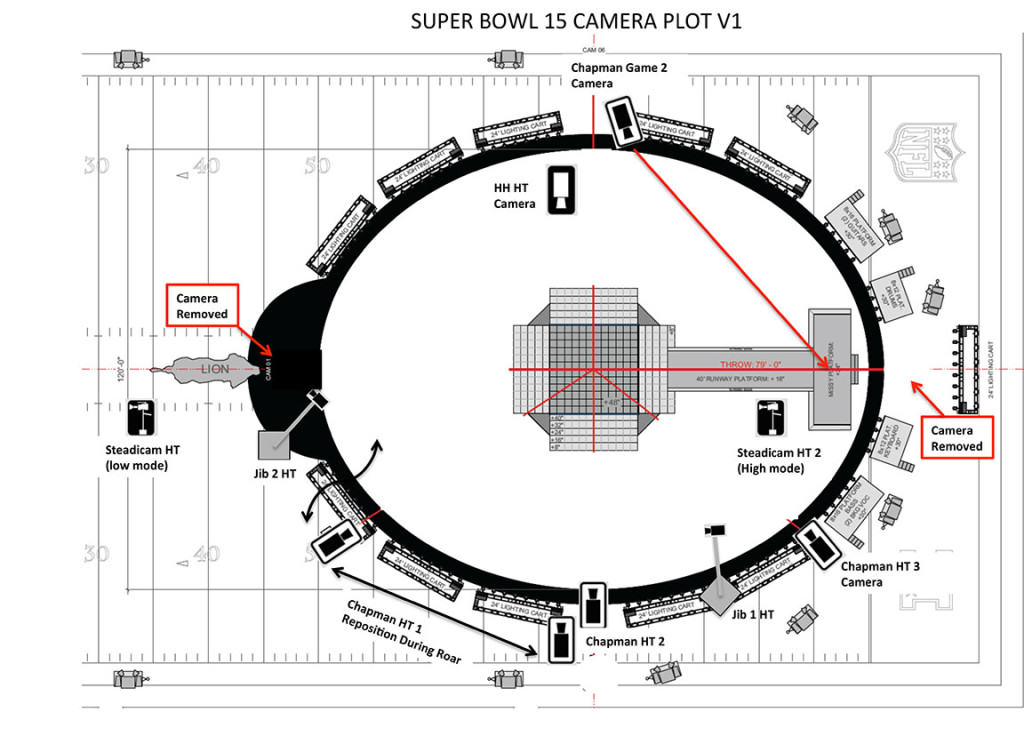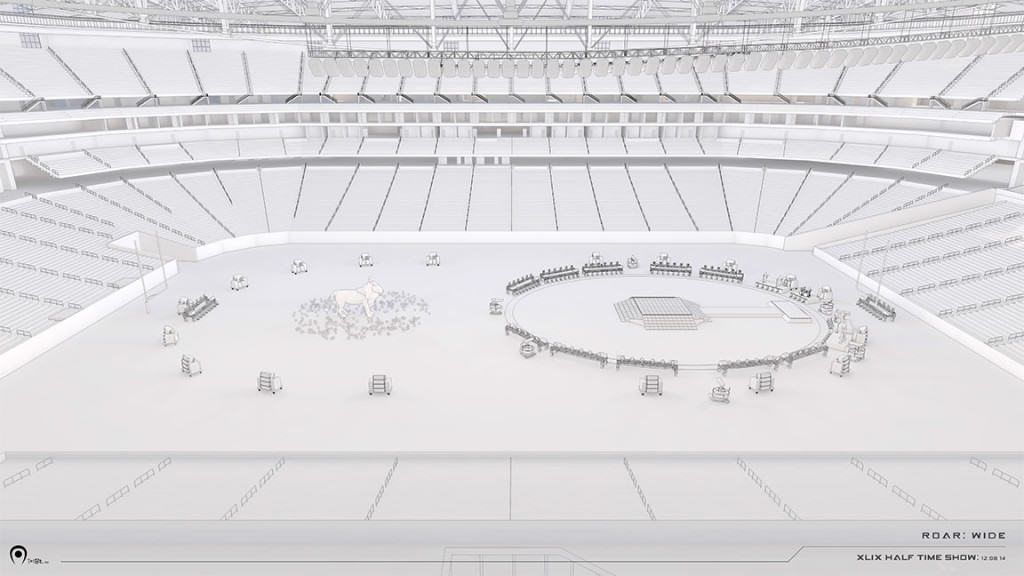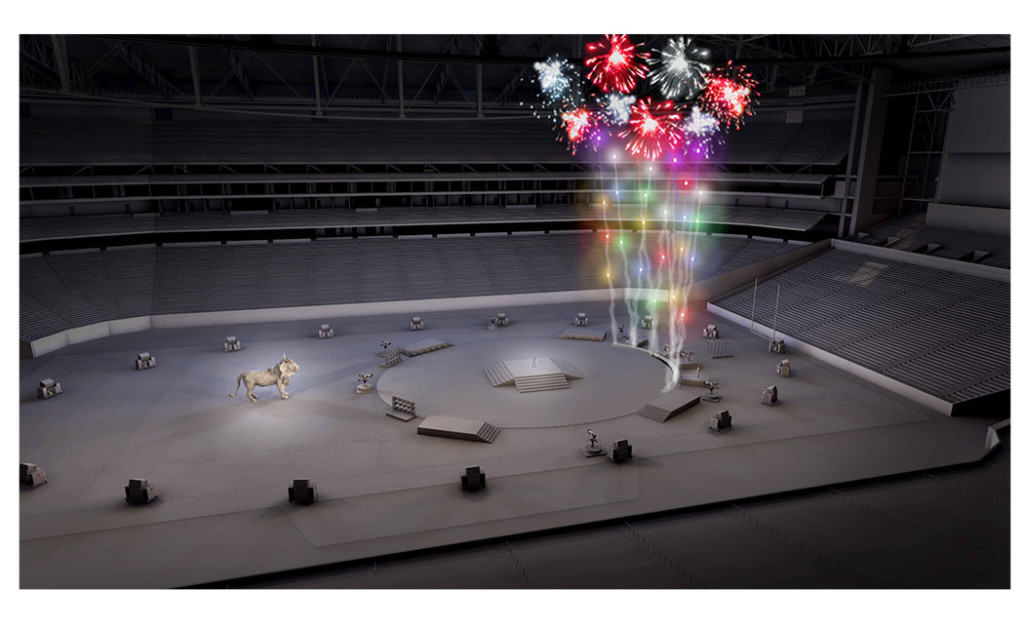 So next time you are eating some wings and watching a Super Bowl halftime show, don't forget to think about all the work it takes to put together a show of this scale. Productions like these take a small village of staff and volunteers – just be happy you get to watch a perfectly choreographed and expertly presented production via your TV hundreds of miles away.
You can watch the full halftime show by clicking here.
© 2015, Payton Peterson. All rights reserved.
---
---
---