Colorado Plays a Large Part in the Aerospace Industry
Recently, the Space Foundation hosted the 31st Space Symposium at the Broadmoor, in Colorado Springs. Every year, many large aerospace companies like NASA, JAXA (Japan), DLR (Germany), and AIAC (Canada) travel from across the globe to attend this unique event. The goal for this Symposium, is to provide a platform for companies and individuals to learn and network with each other. Most of the companies that attend the Space Symposium, usually operate in the aerospace industry.
Besides the main focus of the aerospace field, the Space Symposium also features various companies from other related industries, such as cyber security, global communications, and data protection. Some of the cyber security seminars really hit home for me, as I began to realize just how much the world is at risk to cyber-attacks. While consumers mainly deal with slight inconveniences like "randsomware" and various viruses, big companies have to deal with much larger scale attacks. These attacks could produce overwhelmingly negative consequences, of which, large organizations are trying to prevent by staying ahead of the hackers. Many company-level scenarios were discussed as a seemingly continuous topic throughout the conference, and as we move towards the future, I can only assume more of these talks will continue to happen.
The large turnout of cyber-security specialists and companies that attended this conference helped set the stage for a very memorable visit. The aspect of the Space Symposium that really left a place in my memories, were the various companies that showcased some very impressive and futuristic technology. It was fascinating to see the full extent and capability of the spy satellites on the private market, and to be able to talk to specialists that could answer any question I could think of. Oh, did I mention that at any time during the event, you could spot 3 and 4-star US military generals occasionally walking around the exhibit hall examining and browsing many of the vendors products – yeah, that was neat.
While I was at the Space Symposium, I was able to learn how Colorado plays a much bigger role in the aerospace industry than I originally thought.
Aerospace is Colorado's highest growing economic sector which provides thousands of jobs with local companies like Lockheed Martin, Ball Aerospace, and United Launch Alliance. The combination of Colorado's central geographical location, weather, and scenery, result in the perfect meeting place for major players in the aerospace & technology industries.
The very successful Orion EFT-1 that launched last December had the majority of its components made in Colorado. Lockheed Martin is the main contractor for the Orion project, and had support from other local companies like Ball Aerospace and United Launch Alliance (ULA). ULA provided the rocket boosters for the Delta IV Heavy that took Orion EFT-1 3600 miles into deep space. All of these companies have at least one major location in Colorado. Aerospace in Colorado is heavily supported by Gov. John Hickenlooper, who spoke at the opening ceremony and is openly in favor of expanding the economic sector of aerospace in Colorado. Hickenlooper said, "The Air Force Academy located in Colorado Springs and the Laboratory for Atmospheric and Space Physics (LASP) at CU-Boulder is involved in many key NASA missions. Part of my job is to make sure that investment leads to opportunities for entrepreneurs and established businesses in Colorado."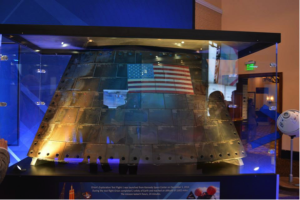 Lockheed Martin displaying half of the burnt Orion EFT-1 Module after its journey into deep space (Courtesy: Austin Braun)
CU-Boulder receives more NASA funding than any other public university in America, and most recently led the MAVEN (Mars Atmospheric and Volatile Evolution) mission. The MAVEN spacecraft was sent 442 million miles to Mars to study it's upper atmosphere and is still sending back information about Mars to this day. CU-Boulder's LASP has also contributed to the Hubble deep space telescope, the Mariner Spacecraft, and the shuttle missions.
With CU-Boulder's large presence in aerospace, Colorado is also home to the United Launch Alliance. With its headquarters located in Centennial, Colorado, ULA provides thousands of jobs to Colorado locals. At the conference, Tory Bruno (ULA's CEO) also announced the name of "America's New Rocket", the "Vulcan". Vulcan boasts only 65% of the regular booster cost, 25% of the booster weight, and a whopping 90% reduction in booster propulsion cost. With the announcement of the Vulcan, ULA is changing the the status-quo of rocket booster functionality and efficiency. Reusability of rocket boosters will cut costs for ULA's customers and provide a serious rivalry for Elon Musk's SpaceX – which has been trying to accomplish the same feat. Vulcan will have its first launch in 2019 and is set to continue ULA's track record of 95 successful launches. After the release of the new rocket name, Bruno concluded his speech by saying, "More capabilities in space mean more capabilities here on Earth".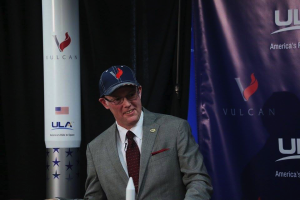 Tory Bruno sporting the new "Vulcan" hat after making an announcement. (Courtesy: United Launch Alliance)
Overall, I was very glad I was able to attend the Space Symposium this year, as it was a great learning experience for me. I look forward to seeing what steps our world takes in the space industries over the next year.
© 2015, Austin Braun. All rights reserved.
---
---
---