Hope for "Transformers: Age of Extinction" – Over-Analyzed Movies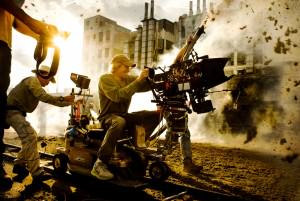 We all know that Michael Bay is not exactly the Da Vinci of cinema. (If you don't know what I'm talking about, see here, and here, and here) So upon the announcement that he was rolling out yet another Transformers film, I felt a bit like Bay's getaway van was turning around to come back and kick my childhood just one more time. And worse? Mark (Marky Mark) Wahlberg was riding shotgun. The Transformers franchise has a tendency to murder my childhood heroes, so as far as hope and excitement and general faith in humanity went… not exactly at an all time high.

But then. I saw this:


Let me go a bit off topic for a second. Contrary to popular beliefs, I think Michael Bay (or at least a writer or a producer or somebody) actually has seen the old cartoons and at least tries to care about the die hard fans. Let me preface what I'm about to say with the fact that "Dark of the Moon" was only marginally better that "Revenge of the Fallen" and still crappy. But, what made the third movie good in my eyes, was that in the midst of the crappy story line and huge explosions, it was packed full of tiny little nods to the old fans. The best of which actually made me fangirl squeal in the back of the movie theater. When Optimus was seconds from decimating Megatron for good, he stares at the camera and his face plate slides into place. (I could write a whole second article about why this made the 12 year old boy in me pee his pants, and all the other things in the crappy third installment of this broken franchise that made me absurdly happy, but I will spare you for now)

Anyway, back on track. I only bring this up because I believe this new movie may be another, larger head nod to the old fans of the franchise. The rest of the trailer is generally irrelevant. It's just all the back story, Marky Mark in a pickup truck, hot blonde in a garage, etc. But, about 2 minutes in, we see Grimlock. Yes, Grimlock, the transforming t-rex from G1 and later Beast Wars. For those of you who are not properly excited about this news, this means that they are incorporating the Dinobots (or at least one of them) from the original Generation 1 series. The Dinobots (beyond being simply the coolest of all the Transformer races) are a faction of Autobots that instead of transforming into vehicles, transform into mechanical dinosaurs, made by some of the Autobots after finding fossils in a cave. Which I think is kind of the coolest origin story ever.

I'm really only excited about the appearance of Grimlock because he's my favorite Transformer from the original series, if I'm honest. But I do see this going only one of two ways. They have brought in some of the Beast Wars characters in the previous movies by incorporating Scorponok (the big scorpion that kicks the crap out of them in the desert until they shoot his tail off) and Ravage and Rampage (the crab and panther that Bumblebee absolutely wrecks in yet another desert.) These were minor characters but still generally true to the original show. Now Grimlock could go this direction, where he's introduced as a minor character for a cool fight scene and stays generally true to the original. I'm cool with that.

Or.

He could go the direction that I worry he will go. The trailer shows Optimus Prime fighting Grimlock. Which I have a problem with. Because Grimlock is an Autobot. And Autobots do not fight Autobots. What I'm worried will happen to my favorite transformers character of all time is this: He becomes an antagonist simply because he is a Dinobot, and no attention will be paid to the fact that he was a very important leader of the Autobots.

The reason I'm okay with characters like Scorponok and Rampage and Ravage being brought in and shoved into whatever plot hole fits, is because they were generally minor characters with minimal background. Grimlock is not. Grimlock was a complex, important, and extremely powerful character in the series.

The fact that Michael Bay is bringing in the Dinobots lineup for the next movie in this dragged out saga makes me absurdly excited, and also worried. Very, very worried. Though all roads point to a generally alright movie — filled with at least enough Pacific Rim brand kick-ass factor to warrant paying money to see it — I have learned never to underestimate Bay's ability to make a high budget, blockbuster movie terrible.

P.S. The fact that Katara is in this movie does not exactly reassure me.

© 2014, Kassi Butler. All rights reserved.
---
---
---