QuickFlics – the Easy Way to Get Videos from Your Phone to DVD
If you're like me, you record quite a few videos on your phone. Generally, the videos I record are filled with some of my best memories, and many incredible moments – all of which I would hate to loose.
At the end of the day, I usually end up asking myself, "What do I do with all these videos, how do I share them, and when should I back them up?"
To answer that question, many people post their videos on social networks – which is fine, except for the fact that almost everything you post is available to the public. Besides that fact, finding specific videos you post becomes a time-consuming task of endless-scrolling. Then, once you find the video you were looking for, how to do you save it?
What about the home videos of the kids running around in little-to-no clothes? Or the video of your wife cheering on a sports team like a maniac? We all have those moments we don't feel comfortable sharing with the world, but still want to have them stored somewhere, or share them with our close friends and family.
This is where QuickFlics comes into play – and solves an issue that has been an ongoing problem since phones were able to record video.
QuickFlics is an app that allows you to upload user-selected videos to a DVD that gets mailed to you, your family, or your friends. You choose what content you want to share, enter an address (or multiple) and press done – the rest is done magically for you. Basically, QuickFlics is the Groovebook for video!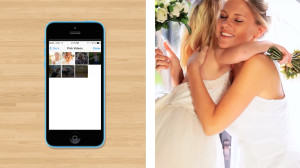 Imagine going to your friends wedding and recording video of the reception on your phone. Maybe you caught a dramatic shot of the bride smashing cake in the groom's face – or even an emotional first dance. Don't just let those videos sit on your phone! Bring joy to the wedding couple by uploading your footage to QuickFlics and mailing them a DVD of their special night.
For those of us that are forgetful and loose track of our phones more times than we care to admit – QuickFlics is the perfect solution. Each month, simply select as many videos as you can fit on a DVD, tap upload, and in 1-2 weeks you will receive it in the mail. Now, you have a backup of your most important moments – all without the hassle of having to deal with the cloud, syncing, and file storage.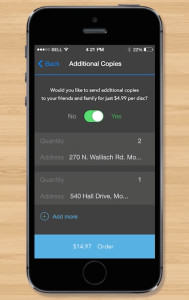 Sure, you may be wondering why not use Dropbox or a similar service to backup your videos. The answer is simple, unlike DVD's, Dropbox only gives you 2GB of space to store your files, unless you want to start paying their $99/year storage upgrade. A single QuickFlics DVD can store 4.8GB of files. That's over 57GB/year of monthly DVD space for all your videos – which is plenty. On top of all that, you have a physical copy of your videos you can hold in your hand, give to someone, or put in a DVD player or computer.
QuickFlics is a monthly subscription service that only costs $8.99/month. This cost covers everything from server infrastructure, to the actual DVD production, labeling, and shipping. There is no monthly contract and you can start, pause, resume, or cancel your service anytime. If you want more than one DVD a month, just pay $4.99/per DVD thereafter.
Yes, it really is that inexpensive to have DVD's delivered to your door – a solution that is safe, secure, and easy to use.
You can download the QuickFlics app for free over at www.QuickFlics.com
© 2014, Payton Peterson. All rights reserved.
---
---
---