Is CryptoDouble a Ponzi Scheme?
Recently, a website named CryptoDouble has popped onto the radar of many cryptocurrency enthusiasts. Like many new cryptocurrency websites, potential users are confused on what to think of this service.
Perhaps the reason for all the confusion is the fact that CryptoDouble promises to double any amount of cryptocurrency deposited, and return it to you within 100 hours. Sound a bit too good to be true? It very well could be.
The website claims to be a group of "investors" that use your money to make "investments" on your behalf. Here is a quote from their website's F&Q section:
… [We] are the group of professional traders and skilled analysts with valuable experience in the sphere of cryptocurrency. All transactions in the cryptocurrency market are carried out according to an elementary principle: buy at a lower price, sell at a higher. And, vice versa, respectively – sell at a higher price, buy a [at] lower. Due to the variability of the exchange rate, we make a great profit on this difference.
The above phrase sounds very similar to a high-profile ponzi scheme designed by Trendon Shavers in July of 2013. Investors were asked to deposit Bitcoin, in which Shavers promised at least a 7% weekly return. After a short successful run, Shavers was able to disappear for a short time with 150,000 BTC. In the end, Shavers was arrested for charges of wire fraud and securities fraud.
---
Now, here are the facts we have observed about CryptoDouble so far:
Pros:
– Many users are reporting they're receiving payouts that are indeed double what they invested
– Payments happen a few minutes after 100 hours usually
– Very low limit on the minimum deposit
– No known limit for max deposit
– Accepts a large list of different coins – (BTC & numerous alt-coins)
Cons:
– CryptoDouble will likely disappear in the near future (with or without returning funds to users)
– Your funds are out of your control the second you send them to CryptoDouble
– Your funds are not insured
- There is no current public information about the owner(s) of the website that is deemed accurate
---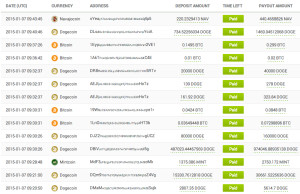 But what if I want to invest and try out CryptoDouble for myself?
Go ahead, try it – but understand what CryptoDouble is, and the risks involved in investing in a ponzi scheme ahead of time. Your funds may disappear at anytime once the owners of the website realize they have enough funds.
A safe manner to invest/gamble would be to send an amount of cryptocurrency you wouldn't mind loosing. After waiting 100hrs if/when your initial investment is doubled, take your initial investment and put it back in your wallet. The rest of your earnings you can strategically invest/gamble knowing you are no longer at a loss should everything disappear.
We suggest you do your own due diligence & research to ensure you are not taking action that could cause financial loss, or stay away from this website completely.
To end, is CryptoDouble a ponzi scheme? Our answer is yes. There is no way an investment company can double any investor's earnings in 4 days (100 hours). If this was the case, we would see major buy/sell orders on the public exchanges, or other larger scale evidence of such occurrences happening. The majority of our staff believe CryptoDouble is just using other people's funds to pay others – a perfect example of a ponzi scheme.
---
Is CryptoDouble a ponzi scheme? Leave your opinion in the comments below & feel free to guess the day that CryptoDouble may disappear.
© 2015, Payton Peterson. All rights reserved.
---
---
---