Is Splashy Fish the new Flappy Bird?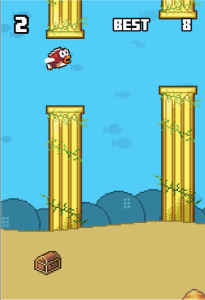 Disappointed you didn't get to play Flappy Bird before the creator pulled it down? You'll be pleased to hear of a new game called "Splashy Fish" by Massimo Guareschi that is pretty much the same thing.
Currently the #1 most downloaded app in the Apple App store, "Splashy Fish" is a game modeled after the original wildly addicting and viral app, "Flappy Bird".
The controls are the same as Flappy Bird, just tap at the right times, and your fish will "splash" through the pillar/tube looking openings. In other words, it's the same game, just with a fish instead of a bird.
Go download Splashy Fish now while you can, if you want to get in on the action. I have a feeling this will not be the last of the games based from the original. Just search "Splashy Fish" on your native app store. Happy splashing!
© 2014, Payton Peterson. All rights reserved.
---
---
---