KiteString: Alert Emergency Contacts If You Go Dark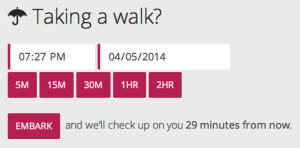 A startup named KiteString hopes to change the way the world lets their family know when they are in trouble.
Sometimes the only way to communicate distress, is by a lack of communication that sometimes may occur around a tragic event. If you were to get hurt, kidnapped, or just pass out, the one thing you would probably have limited access to would be your cellphone. It is much easier to not send a text, than to send a text; especially when you are hurt.
If you are going for a simple walk, or just out to see a movie, KiteString will make sure you are ok when you are finished with a task. This is especially useful for seniors living on their own, kids coming home from school, or making sure the husband makes his flight to LAX safely.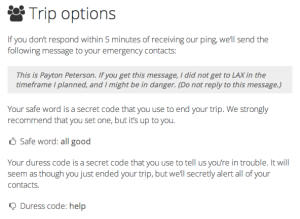 The clean and simple web-based UI is usable by anyone that knows how to use a computer. Simply set a time you plan on being somewhere, and let the platform do the rest.
You will get a text message asking you if you have made it to your destination at the time you set. You can either reply with a number of minutes more until you arrive, or a "safe word" like, "yes" or "made it".
If you do not reply to the text within 5 minutes, KiteString will text your emergency contacts you setup online, and let them know something isn't right. Simple – but useful.
KiteString is free to use, but may occur data/text related costs if you do not have a texting plan with your mobile device.
© 2014, Payton Peterson. All rights reserved.
---
---
---