Microsoft When Will I be able to Play on the go?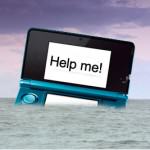 As you all may know Microsoft is probably one of the best companies around for gaming consoles and phones, and personally I believe that the Xbox 360 is an unmatched gaming platform (sorry PS3 but Xbox Live hasn't been hacked yet) and really is just the only gaming system I would want to ever play. But that's not my problem, my problem is what the heck do i bring with me on a road trip?!?! What do you expect for me to bring a T.V  and my whole gaming setup on the plane? Microsoft has not made a single handheld console! Nintendo is just raking in the profits on the DS while Microsoft just sits back and watches, Nintendo has had a great run they really have, but with one release of an "Xbox Portable" or an "Xbox 180″  Nintendo would sink like a rock in the ocean.
So to all you "Dorks" out there who I know want a portable gaming console from Microsoft feel free to send them a message. If enough of us do send them a message, a seed will be planted and all we need to do is water it.

Have a "Dork-tastic" day