Movie Review: The Wolf of Wall Street (Scorsese) (2013)
The Wolf of Wall Street, Martin Scorsese's newest feature film starring Leonardo DiCaprio was phenomenal. With a runtime of 3 hours, I went in expecting this dark comedy to feel long, but on the contrary I left wanting to see the original, longer cut . It engaged me from the first moment to the last. The time flew by and it's length fit the movie perfectly. Without a doubt I can say 'Wolf' is one of, if not, the best movies I have seen recently.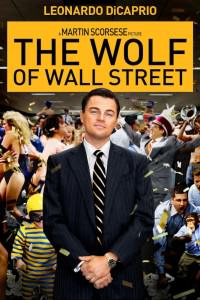 The movie in whole perfectly encapsulated this 1 part pseudo-cautionary, 2 part not-so-humble brag tale. Every line and every frame dripped with the right amounts of everything to tell the story fully. By the end we really feel like we know Jordan Belfort (Dicaprio) and begin to rationalize his actions in the same way he does throughout the film. Terence Winter was sure to make every word fit perfectly, leaving none stray to bog down the characters and detract from the message and intent.
Winter's ability to make you laugh at the most absurd, inappropriate, and down right despicable things is probably one of my favorite parts of the film. Whether it is pissing in buckets, a sex scene gone awry, drugged up antics or chanting "F**k America", this movie had me laughing at things that should really not have been humorous, but were written in such a way that there was nothing else you could do. Which is much how the characters went about their lives, laughing and shrugging off events that should have been horrifying. The characters on screen stayed dramatic, while the audience laughed at the humor of it's absurdity, and  in the next scene we would be the ones focused intently on the consequences while they laughed of the drama of the previous scene. This allowed us to ride the roller coaster that was Belfort's life along with him, and in the end, that kind of experience was what kept the movie alive and kicking throughout it's 3 hours.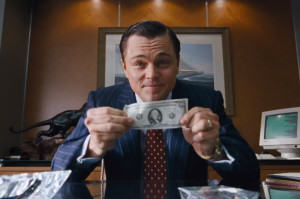 This is a dark comedy with mass appeal, and it fits nicely within it's genre, while expanding from what is usually a more niche audience to a wider audience for a wide release, but never losing its dark comedy charm. Often times we see more niche audience movies make concessions to be successful in more demographics, but not will 'Wolf'. It knew who it was speaking to from the very start and kept it throughout, keeping true to it's niche dark comedy roots while still truly being appealing for a wide release, all while giving an overall air of "If you don't like the movie, F**K you, go see something else". This air and presence comes straight from the pages of the script and from the actions of the characters themselves. A lack of care for what people thought, and an understanding of who their own audiences were when making millions off of these penny stocks. The sheer lack of compromise was a winner in my book, especially keeping it with the mass appeal.
In fact, some of the only compromise I actually saw in the movie was in the editing. Don't get me wrong, Thelma Schoonmaker did an incredible job editing this film, and I found the pacing to be fantastic. That being said there were a few scenes and sequences where you could tell portions were removed when cutting the film down from its original over 180 minute runtime. Over 15 minutes of the film had to be cut for its 165 minute theatrical release, and in a few instances you could feel it. This may be nitpicking for problems, because to be frank, they did not detract from the film as a whole as the pacing remained perfectly fine, and no key elements of the story felt left out or unexplained as sometimes is a result of cutting down. Beyond the trimming, the editing was fantastic and that was a key factor in keeping the audience engaged for close to 3 hours. Personally, I would not have minded the original run time, but apparently some of the portions that were removed kept the film rated R instead of the dreaded NC-17.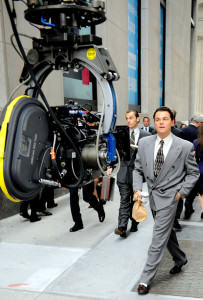 (Possible slight effects spoilers in this paragraph, if you don't want to know, skip to the next one) This movie also had some incredible visual effects, with no robots, aliens or superheros insight. If you have already seen the film, you will know several yacht scenes, all of which were on a greenscreen. I went into the film already knowing this but can honestly say all but maybe 1 were almost completely seamless to my eye, even knowing what to look for. For the average viewer, they all would have been as realistic as if they actually did it. If you don't believe me, check out these photos here and here.
"The Wolf of Wall Street" is an incredible film and comes highly recommended. It's writing, cinematography, visual effects and editing are all perfectly fitting and as always Scorsese pulled some incredible, emotional and all around perfect performances out of Dicaprio. It knew it's target audience, but also knew that it could push boundaries and bring in a wider audience without sacrificing what was important to niche dark comedy fans. This film is without a doubt a masterpiece, and I would recommend anyone who doesn't mind some graphic language and nudity to check it out no matter what your usual favorite genre is because I can almost guarantee you will enjoy it.
It is still in theaters so if you have been waiting to see it, grab your ticket from Fandango!
Or, if you have already enjoyed it like me, pre-order the Blu-ray on Amazon!
Reposted on dorkTech with permission from MovieView.org (http://movieview.org/the-wolf-of-wall-street-scorsese-2013/)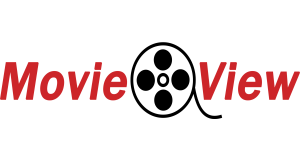 © 2014, Trenton Hoshiko. All rights reserved.
---
---
---