Ninite Makes Installing new Programs Easy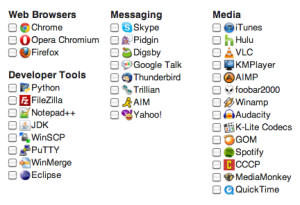 One of the most frustrating things we have to deal with almost daily is installing or updating programs, followed by waiting for our computers to restart. Even though it's usually a short process, it is one of the biggest nuisances to me, and should be done automatically. Sometimes we risk our computers by running outdated versions of our applications; then when something goes wrong we frantically self-diagnose our problems and Google the error messages. Do you know what the first solution always is? To update your applications and drivers. How frustrating, right? That is where a nifty program named Ninite comes to the rescue. Ninite is a small and simple program that automatically installs and updates your previous applications, all the the same time, in one program.
Ninite is especially useful for fresh PC installs. I personally use it all the time when I build a new computer, as it simplifies the installation of programs drastically. Instead of finding each program's website, downloading the program, installing it, then rebooting – Ninite does all that for you at once. It is as simple as checking a couple boxes and pressing "Get Installer".
Pricing and Support:
You can use the Ninite website for free, and download all the major programs listed on their home page for free. This also includes the installer that installs all your programs at once.
You can also download the auto-updater solution Ninite Update. Ninite Update works with both Windows and Linux, and features a basic and Pro version. The basic version is for one PC with discounts for multiple computers at a low rate of $9.99 a year.  Their Pro version works with as many computers in your domain and is a tiered rate of $20 a month for 100 computers. As for applications supported, there are a total of 110 officially supported by Ninite. Ninite can also run custom installation scripts for any application you'd like. Currently they are accepting requests for new applications to be added – and the most popular will come with newer builds. You can check out the full list here. Some common categories and applications supported by Ninite include web browsers (Chrome, Opera, Firefox),  messaging and e-mailing systems, compression applications,  media players,  runtime programs, developer tools, document viewers, security programs, and file sharing applications.
Why It's One of the Best:
No more hassle of installing multiple programs – just click the programs you want, and they are downloaded and installed. Then you reboot once, not 12 times. Simple as that.
With Ninite Update, you set your updates to download and then forget it. There's no worrying about having to click next on option dialogs or start each program's update individually. Everything runs in the background and the downloaded updates go where they need to go. Options for 64-bit applications will automatically be chosen and custom languages can be used. If you are worried about the toolbars and other annoying add-on applications that come with updates, don't sweat – Ninite will ignore those for you automatically. Reboot requests will also be ignored, so you can just do that at the very end of all your updates if you wish, whereas some applications require a reboot after each update. For those who have updated entire domains, you can choose to have each computer update different applications and utilities on an individual basis, or set it for all of the computers in your domain. All of this can be done remotely, which makes managing versions on many computers as simple as typing few keystrokes on the manager system. With Ninite Update you are in control of your updates, and no longer need to painstakingly update each program you have individually.
Ninite is a must-have for any PC user. Be sure to bookmark their website – www.Ninite.com
© 2014, Mark Jensen. All rights reserved.
---
---
---