Split your Netflix and Hulu+ Costs in Half: Introducing Splitflix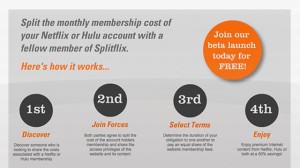 Do you find yourself constantly asking your friends and coworkers for their Netflix login info? What about asking around for a Hulu+ password? Wouldn't it be easier if you could easily split the costs and share the services of Hulu+ and Netflix with some friends?
Thats exactly what Splitflix plans to do. For $1/mo, Splitflix will set you up with someone who is interested in sharing Hulu+ and Netflix accounts with you. Once you're connected with another Splitflix user, you negotiate the duration of the arrangement, and other terms and conditions and boom – you're done! Half-price access to the two largest video streaming services.
While password sharing is not prohibited by Hulu+ or Netflix, I could see companies wanting to block Splitflix arrangements, especially if the service really takes off. But hey, might as well enjoy it while it lasts!
© 2012, Payton Peterson. All rights reserved.
---
---
---