Why I Dropped Dropbox and got OwnCloud
I once was a huge Dropbox user, until I found a free open-source system called OwnCloud. OwnCloud is basically Dropbox, without the data limits and pricing restrictions.

The only catch is that you have to run and install OwnCloud on your own server – which isn't hard to do for many of us. If you run a website or have any type of hosting, then you can easily integrate this system alongside your existing infrastructure.

OwnCloud has a bunch of neat features, here are some of them as of writing this post:

Access from anywhere (desktop, mobile apps, etc)
Sync all your important stuff (contact, calendars, photos, files)
Share your data with friends, co-workers, or clients
Clean user interface – simple to use and familiarize yourself with
"Un-Delete" – if you delete something, you can un-delete it later
 External storage integration (DropBox, Swift, FTPs, GoogleDocs, S3 and external WebDAV servers)

For a full and up-to-date list of the features OwnCloud provides, checkout their website.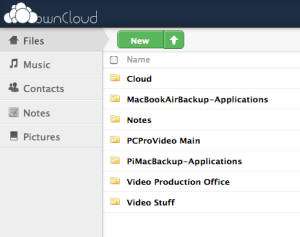 Being a videographer who has a couple offices, I have all my critical content sync via OwnCloud to all my main editing systems. In total, I have about 400GB of data backed up and synced between all my offices onto external drives at each location. I couldn't do that amount of data moving with Dropbox unless I wanted to pay some monthly fees.
Of course you don't have to be a "power user" like me to use this platform. I have friends who use OwnCloud to share songs/files with each other, and I have other friends who run their entire company via OwnCloud. "Hey Jim, I need that graphic" "Sure thing Beth, I'll throw it on OwnCloud when I finish editing it". The neat thing is, the entire system is scaleable and just depends on how much space you have on your server. Most people can just run OwnCloud on their existing website infrastructure, so it's win-win.
Besides offering the ability to sync files, contacts, music, notes, and pictures, OwnCloud offers many plugins that let you make the most of the system. These plugins have a large active user base of creators and code writers. Many of them are usually up-to-date and useful. From user management, to tracking GeoIP logins to your directories – there is more than likely a plugin that you will find useful.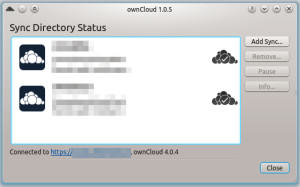 I personally run my OwnCloud in its own directory on a hidden folder, something like this: james.com/files (of course I'm not really going to post my real OwnCloud URL here – but you get the idea). As simple as that seems, remember that you will still have to pass a login screen to even see your content. So, make sure you have some complex password if you are deploying this on a highly public site.
Besides the web UI, OwnCloud offers downloads for Mac, Linux and PC to manage and sync your chosen files and folders automatically. They also offer a useful app that you can use as well. Just be careful of which folders you choose to sync to it – you don't want to fill up your phone with un-needed files.
"But Payton, what if I don't have a web server – aren't those expensive and complex?" No – it's super easy to get going with OwnCloud. Got 15 minutes? Perfect. For now, go checkout OwnCloud's website to see how to set it up.
I will be writing an article on how to setup and install OwnCloud on your own server here soon – be sure to subscribe and watch for it.
© 2014, Payton Peterson. All rights reserved.
---
---
---